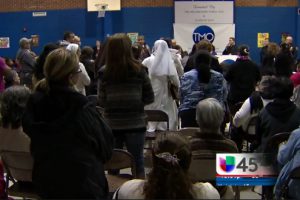 When TMO leaders were asked to stand if they had been personally impacted by crime, half the room stood on its feet at Assumption Catholic Church in in North Houston. Leaders had gathered at Assumption Catholic Church to confront Houston Police Department officers with stories of relentless auto-theft, campus drug sales and physical assaults in North Houston. Councilmember Gonzalez was on hand to respond as well.
Cansados del Crimen Que Azota Al Norte De Houston, Univision 45 [Spanish]
Do you like this post?